You've found your dream home in the perfect neighborhood. It has the charm and character you've been looking for, but there's just one thing you're not in love with – the dark, outdated brick exterior. The curb appeal just isn't there for you. You've seen the shows where they transform a home by painting the brick. You know it can be done, but do the pros outweigh the cons of painting a brick exterior? 
Today, we'll break down the pros and cons of painting brick exterior. With over 10 years of experience painting exteriors in both residential and commercial spaces, we know exactly what works (and what doesn't) when it comes to brick exterior painting. In this blog post, we'll share our expertise and professional advice for painting your brick home. Ready to decide whether or not to pick up the phone and call your painter? Let's get started!
Pros and Cons of Painting Brick Exterior
While there are some people that believe you should never paint brick because of its natural tone, painting exterior brick has definitely been on the rise over the past several years. Freshening up your brick with a stunning paint color can be a simple way to transform your home and give it the modern, welcoming look you're striving for. 
Whether you're a fan of bright white or want something warmer, such as tan, gray, or a darker color like black, there are a ton of color directions you can go when it comes to painting your brick exterior. The color you choose allows you to add your unique style to the outside of your home. It can also increase your home's value on the market, which can make it a great investment in the long-run. Before you make your decision on whether or not to paint your brick house, consider these pros and cons. 
Pros of Painting Brick Exterior
Transforms the look of your home and boosts curb appeal and value.

Painting a brick exterior instantly transforms the look of your home. When done correctly, a painted brick home can look modern, sophisticated, and sleek. This overall increase in curb appeal can lead to an increase in your home's value.  This also sets your home apart from others in the neighborhood by giving it a unique look and charm. 

Protection from weather and the elements.

A professionally painted brick exterior using the right paint choice, sealant, and process can protect your home from weather and the outdoor (uncontrollable) elements, such as water damage, fading, and the wearing of your home's exterior.

Easy to keep clean.


Natural brick can be a challenge to keep clean, as it is very porous with a lot of nooks and crannies. With a painted brick surface, it's smoother and easier to clean with a consistent power washing routine. 
Cons of Painting Brick Exterior
Painting exterior brick is a (semi) permanent decision.

Sure, you can always paint back over the brick exterior if you don't love the color you chose 10 years from now, but once you decide to paint your brick house, it is extremely difficult and expensive to go back to the original brick.  
Increased maintenance and cleaning.

While a painted brick home is easier to clean than a natural brick home, it will require increased cleaning and maintenance. Dirt, grime, and residue from the outdoor elements shows up much more prevalently on painted brick. Therefore, you'll have to break out your power washer more often to keep it bright and clean. You may also need to touch up the paint from time to time. Choosing a high-quality brick exterior paint will help cut down on these touch-ups. 
Choosing the wrong paint can lead to poor results.

After painting a brick exterior with an exterior 100% acrylic latex paint, moisture can more easily become trapped inside the surface. This can cause paint to chip and in some cases, damage the original brick. This is especially a concern for brick that is closest to the ground. This concern can be substantially decreased if not completely avoided by choosing the correct paint and applying it appropriately. Using masonry paint, such as Romabio Mineral Paint can help avoid any moisture issues. By working closely with a professional paint company, they can help you choose the right paint for the job and ensure your brick is prepped appropriately and the paint is applied for maximum results. 
Brick Exterior Paint Options
There are a variety of brick exterior paint options on the market. It's important to do your research and ensure you are using a brick paint made specifically for the exterior of your house. 
When painting exterior brick, look for a masonry-specific paint instead of the typical latex exterior paint. These masonry exterior paints are formulated to endure the elements more effectively and go on your brick exterior smoothly. 
Our choice for the best exterior paint for brick is the Romabio Masonry Flat. This toxin-free, hypoallergenic exterior paint will give you solid coverage without chipping, peeling, or flaking. This paint is incredibly durable and lasts 20+ years. 
The Sherwin Williams Loxon Masonry Line is also a great choice for brick exterior paint. This paint blocks moisture and comes in a variety of colors. 
How to Paint a Brick Exterior
If you make the decision to paint your brick exterior, you may or may not want to hire a professional to assess the job and guide you every step of the way. If you do hire a professional, they will help you determine which paint color and paint option is best for your home and your region. In areas like Raleigh, it's important to choose the right paint to accommodate the humidity levels to prevent moisture issues, chipping, or flaking. 
From there, they will ensure your brick is properly cleaned and prepped before the actual painting begins. Every paint product will have slightly different prep instructions, so it's essential to follow the guidelines for the specific paint product you choose. 
A professional painter will give you tips and advice for maintaining and cleaning your brick so it stays fresh and beautiful for years to come. 
Tips for Maintaining a Painted Brick Exterior
Once your exterior brick paint job is finished, it's important to establish a routine cleaning and maintenance process. This will keep your home looking in tip-top shape and holding (or increasing) its value over time. 
Add it to your yearly calendar to power wash or hire a professional to power wash your brick exterior. As you do so, inspect the paint for chips, signs of moisture, or other damage. 
If you are in the Raleigh area, we highly recommend Southern Outdoor Restoration and United Softwash for your home power washing needs. 
If you do need to touch up the brick exterior paint, reach back out to your painter and give them a call. They can help you assess what touch-ups need to be done and execute them professionally.
Examples of Painted Brick Exteriors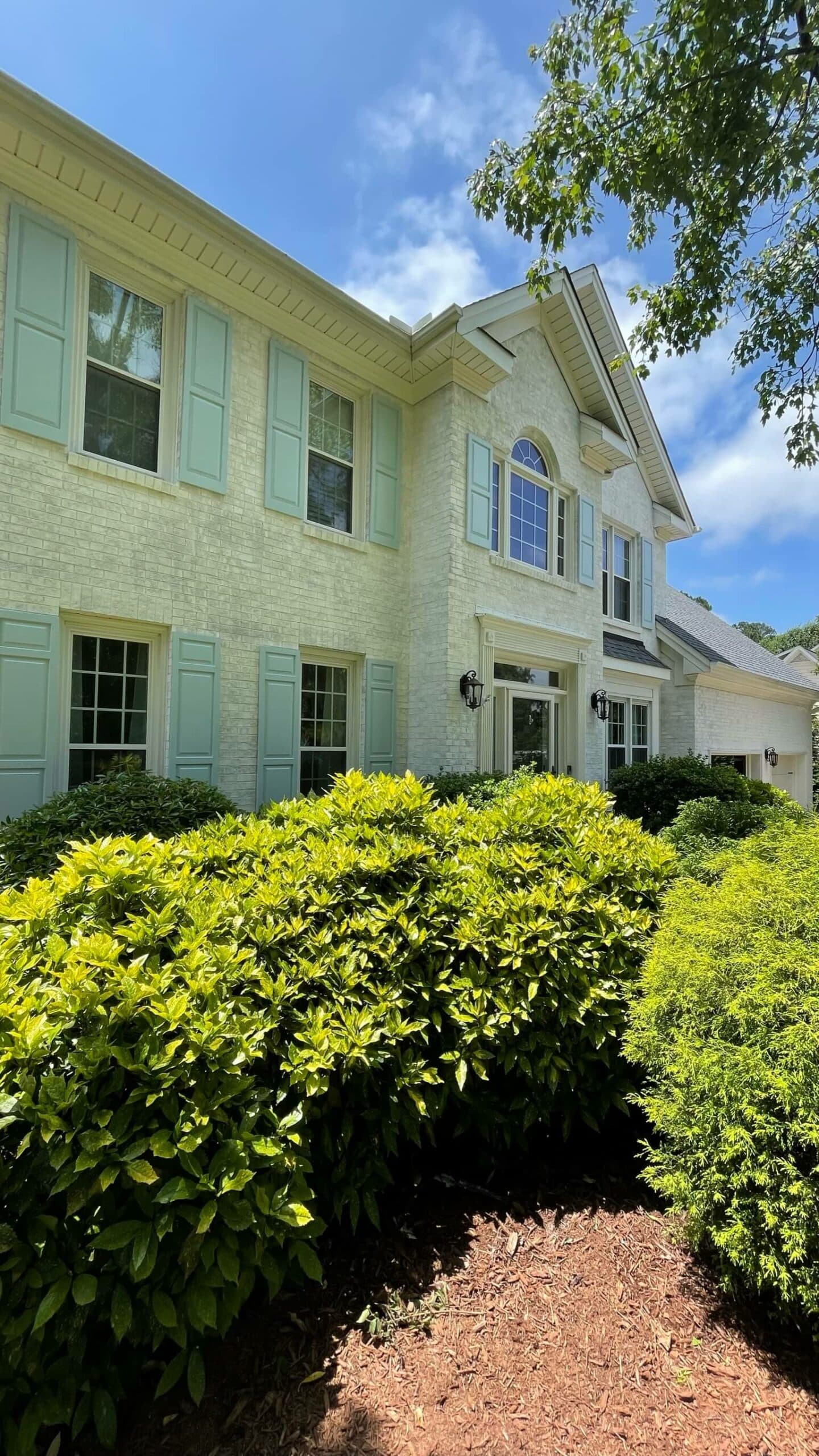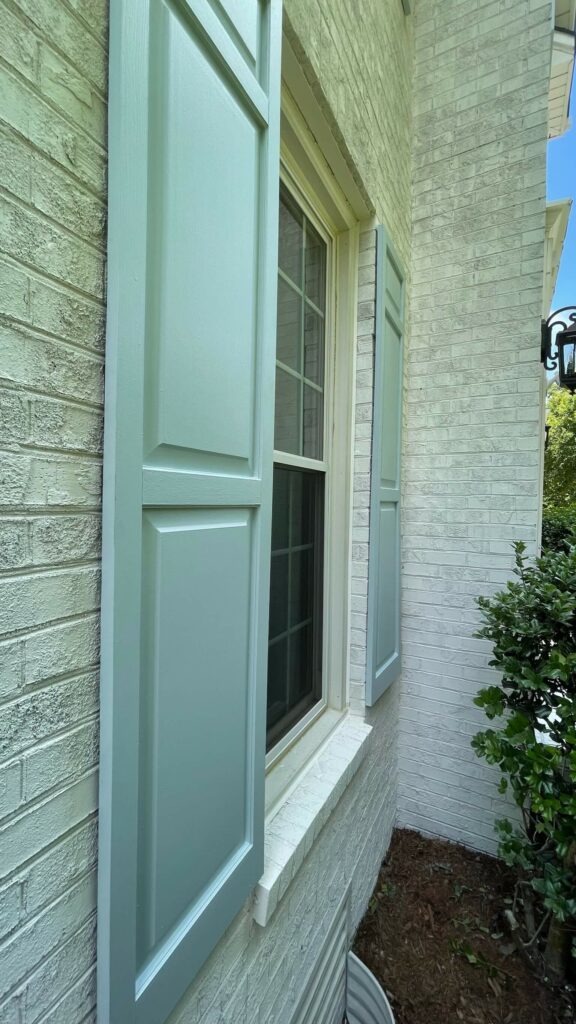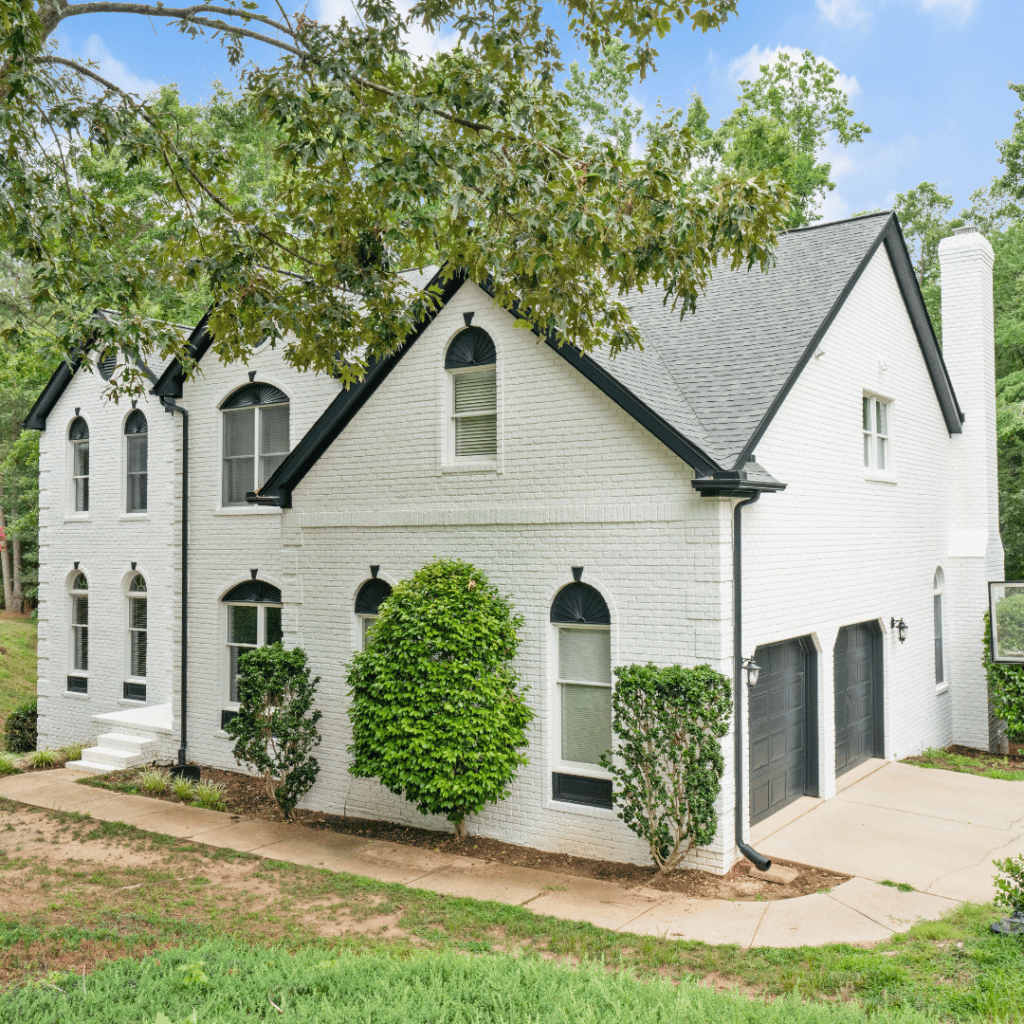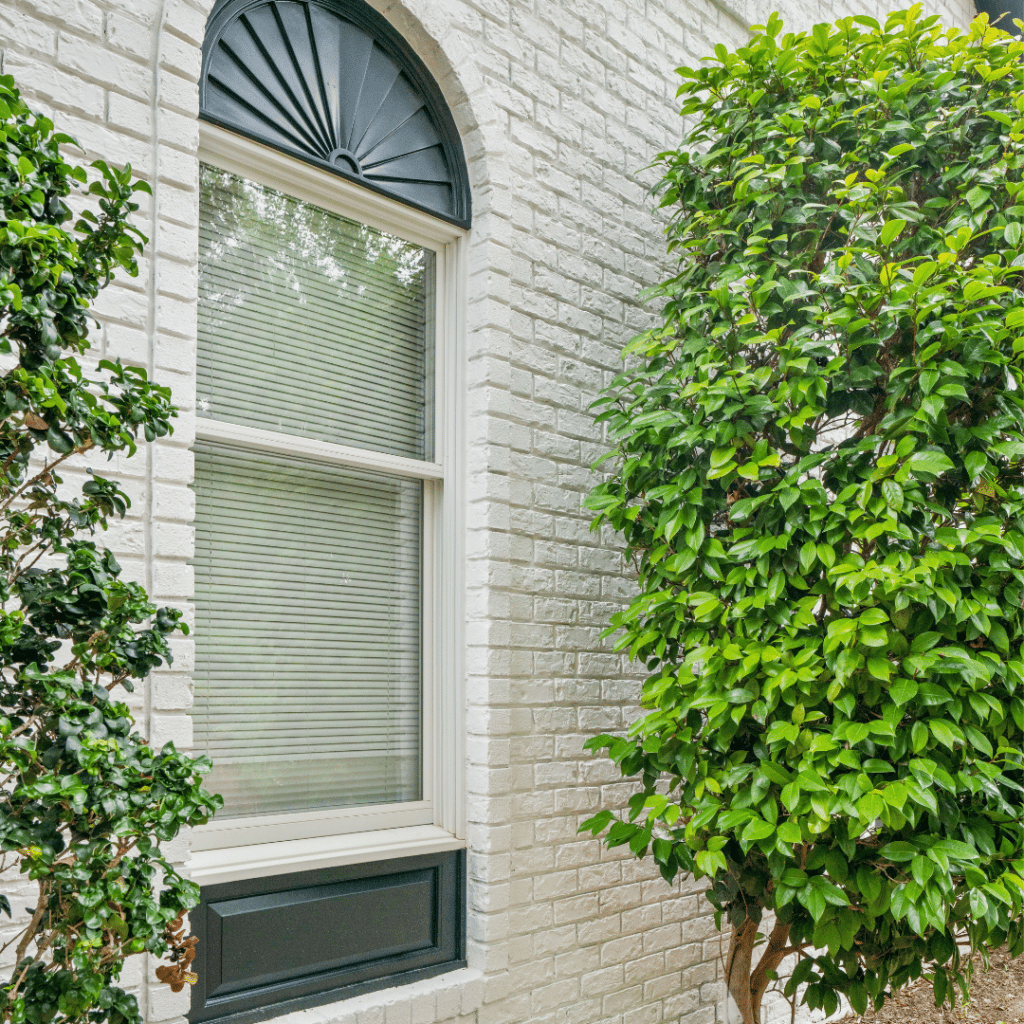 We hope this blog post has helped you decide whether or not painting your brick exterior is the right choice for you. If you decide to move forward with your painting project, we'd love to partner with you! As your professional painter and a Romabio Preferred Pro, we'll ensure you have the highest quality experience and come out with a painted brick home that you love! Head over to our contact page to book a consultation with our team.