The kitchen is often a focal point and gathering place in every home. It's where delicious meals and memories are made. You can transform the look of this space by painting the kitchen cabinets to fit the look and style of your home. This is also a budget-friendly way to update your kitchen without completely renovating the room. If you have ever considered DIYing your kitchen cabinet painting, you've probably wondered exactly how to paint kitchen cabinets professionally (so they don't look DIY). In this blog post, we're breaking down the step-by-step process in our kitchen cabinet painting guide. This guide is perfect for DIYers looking to learn how to prep and paint your kitchen cabinets. Let's dive in!
How to Paint Kitchen Cabinets Professionally
If you are ready to paint your kitchen cabinets and would like to DIY it, but still make it look professional, there are a few key steps to follow for prepping your cabinets and applying the paint. 
How to Prep Kitchen Cabinets for Paint
No matter what paint you choose for your kitchen cabinets (we shared our favorite kitchen cabinet paint products here), the most important thing will be prepping the cabinets and applying the correct primer. 
We recommend referring to the product data sheets that come with your paint for application information, a list of tools needed, material thinning requirements, etc. 
In most cases, you'll want to sand the cabinets before priming them. It might take a little bit of extra time and labor, but it will be well worth it and allow your paint to go on smooth and last longer.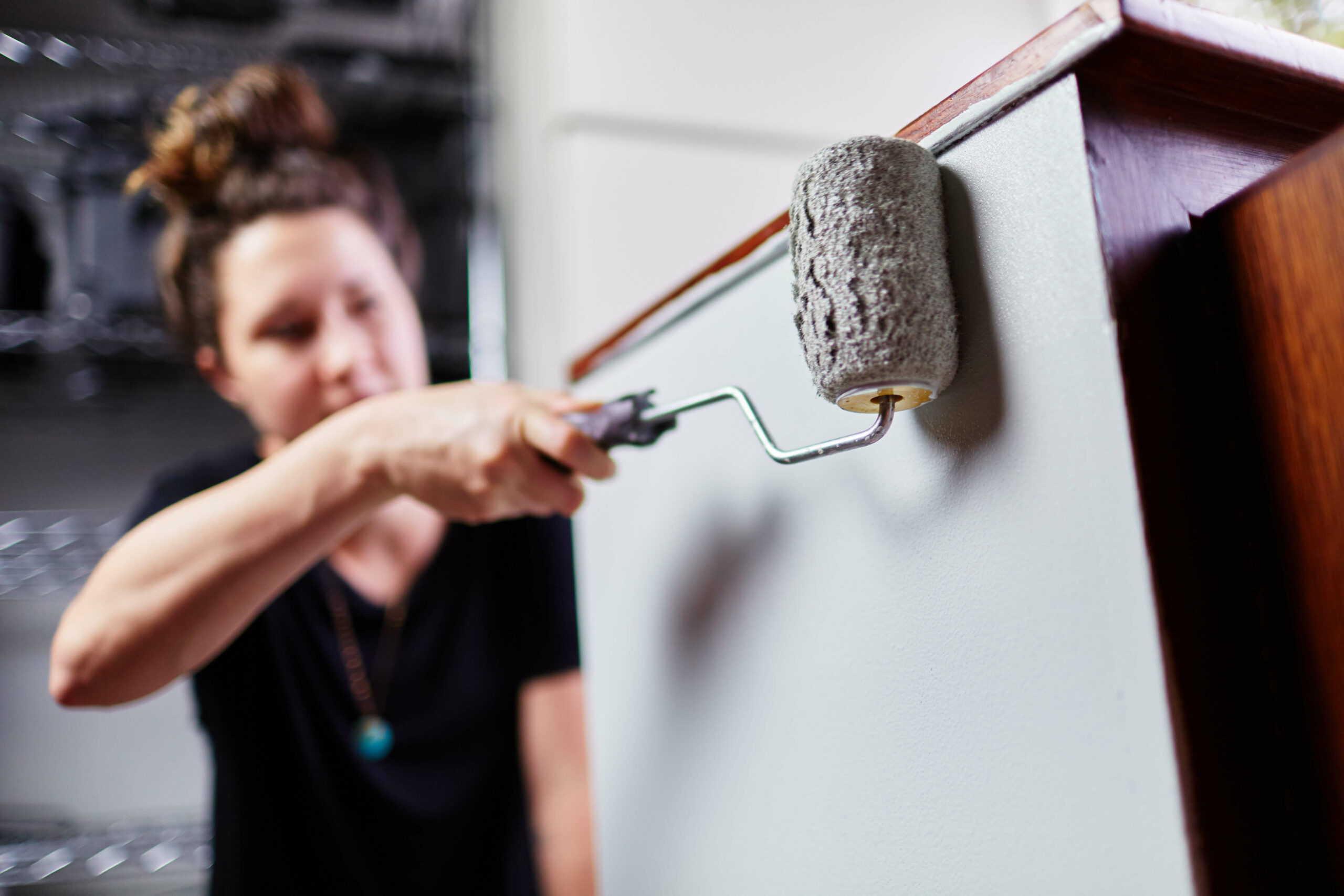 How To Paint Your Kitchen Cabinets Step-By-Step  
If you're ready to start your DIY kitchen cabinet paint job and have the right paint and tools in hand, read on to find the step-by-step directions for painting your kitchen cabinets. 
Step 1: Prep Your Space and Disassemble Cabinets
Prep your space so you have a well-ventilated area to work in. Remove everything from inside the cabinets as well as all doors, drawers, and hardware from the cabinets, cover everything, and apply Frog Tape. Make sure to take pictures and make notes of where everything goes so you can reassemble with ease. 
Step 2: Clean Cabinets 
Wipe and clean all surfaces to be painted with a cleaner and degreaser.
Step 3: Sand Cabinets
Sand all kitchen cabinet, door, and drawer surfaces to be painted.
Step 4: Prime 
Prime all surfaces to be painted. We recommend using a shellac or lacquer primer.
Step 5: Sand Primed Surfaces
Sand all primed surfaces after the primer is dry.
Step 6: Fill In Imperfections
Fill in dents, bumps, grains, and any old holes. If you need to drill new holes for new hardware, do that now.
Step 7: Sand Fillings
Sand any fillings you made to the cabinets and wipe down with tack cloth to remove any dust or sand particles.
Step 8: Drill Holes (If Needed)
Drill new hardware holes in the cabinets if needed.
Step 9: Spot Prime 
Spot prime any fillings made to ensure paint goes on these areas smoothly
Step 10: Apply First Top Coat
Apply your first top coat of paint. 
Step 11: Sand 
Sand the first top coat of paint after drying.
Step 12: Apply Second Top Coat
Apply your second top coat of paint.
Step 13: Dry and Clean Up
Let the coating properly dry. While waiting for the paint to dry, you can clean up your space and prepare to reassemble the cabinets. 
Step 14: Reassemble Cabinets
After the top coat is dry, reassemble the cabinets, reinstall the doors and drawers, and remount all hardware.
Last but not least, enjoy your freshly painted kitchen cabinets and give yourself a pat on the back for a DIY job well done! 
While painting kitchen cabinets does require careful preparation, quality products, and attention to detail, it is absolutely possible to achieve an amazing end result when DIYing. 
However, if you would rather hire a professional paint company to tackle your kitchen cabinet paint job for you, we'd love to partner with you! 
Our mission is to make the painting process easier on you and give you the highest quality paint job possible. 
Ready to get started?
Book your free consultation with our team!