Oak City Coatings is a Raleigh paint company dedicated to providing the highest quality painting services for your home or business. We were founded with the mission to deliver a new standard of experience on every paint job we encounter. In this blog post, we're sharing a behind-the-scenes look at our founder Nick's experience working at Sherwin-Williams and how that experience has helped us serve our clients to the best of our ability today!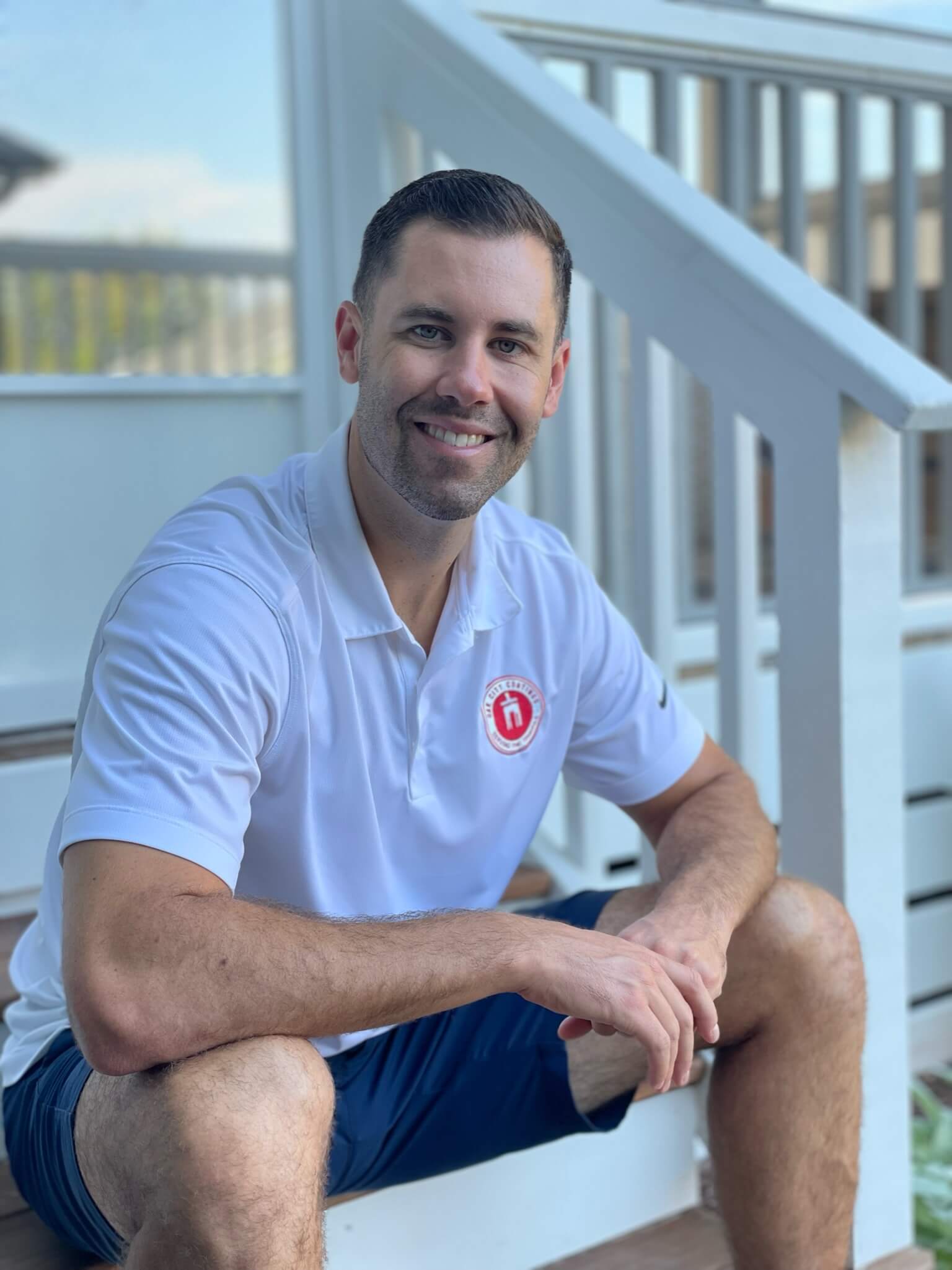 Meet Our Paint Company Founder
Oak City Coatings was founded in 2021 by Nick O'Keefe of Raleigh, North Carolina, after spending more than a decade working in the paint and coatings industries. Nick has worked with Sherwin-Williams, the largest manufacturer and top distributor of paint and stains in the world, serving customers in both residential and commercial markets.
After graduating from college, Nick began working at Sherwin-Williams in their management training program. Over his 11 years with Sherwin-Williams, he worked both in the store as a manager and in the field as a sales rep for various industries, such as residential, commercial, etc. 
Through his experience working at Sherwin-Williams, Nick realized that his passion for serving his customers went far beyond the paint store. He wanted to bring his knowledge directly to your doorstep and help you bring your painting projects and visions for your spaces to life with high-quality paint services and products.
Whether you're a homeowner, realtor, or business owner, Nick is passionate about delivering the top quality service and expertise you deserve through Oak City Coatings.
Nick has also always had a passion for teaching and growing a team. This has led him to provide a ton of knowledge and advice for DIY paint projects here on the blog as well as help train and grow the skills of his team members. 
As the owner and founder of Oak City Coatings, Nick is honored to have the opportunity to help others grow in their paint knowledge and as paint professionals. He is dedicated to providing his team with the opportunity to achieve work-life balance and growth, all while making an impact in the community.
Nick's Experience Working At Sherwin-Williams
Nick's experience working at Sherwin-Williams for 11 years helped him gain a lot of valuable expertise and insight on painting best practices, techniques, and the quality of products. 
Over the years, Nick has identified several key gaps between the paint store and paint companies. Let's break down a few of these gaps and what Nick has learned so he can serve his Oak City Coatings customers to the best of his ability. 
Customer Service. 
The home improvement and contracting industry does not have the best reputation for customer service. There is oftentimes a lack of trust between the client and the contractor, whether that's due to poor communication or a lack thereof, poor craftsmanship, sub par materials, cutting corners, etc. Oak City Coatings aims to provide only the best customer service and quality of work throughout the entire project. 
Communication.
For the vast majority of paint contractors, there is very little communication with clients on what to expect and when to expect it during all phases of the project. Typically, from what I've seen, you will get a call the night before saying "Hey, we will be at your house tomorrow to start painting." This does not give the client time to get their home ready or properly make arrangements. Sometimes, that even means having to rush to the paint store that evening to choose a paint color because they didn't know what their timeline was and didn't plan for that to be done yet. This can be super stressful for clients as choosing a paint color can be quite a process. 
Lack of Transparency. 
Lack of transparency is a gap that can be twofold. First, there may be a lack of transparent visibility online and in the community. For most contractors, if they do a poor job or get poor reviews, they often disappear and their online presence becomes nonexistent. They have no social media, no website, no Google My Business, no Better Business Bureau presence, etc. In the event that a client isn't happy with their work and they can't find them, there is nothing they can do about it. Nick calls these types of painters "ghosts."
The other side of this is a lack of transparency on what work will be completed. You may pay someone to paint a room, but what does that mean? 
Are they fixing imperfections on the wall first? 

How are they covering and protecting things in your home? 

Are they caulking anything? 

What type of caulk are they using? 

Do you need to use a primer? 

What type of paint do they recommend and why? 

Why might you choose certain sheens for different spaces? 

What types of colors would coordinate well in this space? 

What do we need from the client during this process? 

What does clean-up look like?
Lack of Education. 
Another gap Nick sees between paint stores and paint companies is a lack of education. There is a lack of education on the paint store's part on different paint companies, different paint products, the advantages and disadvantages of spending more on higher-end products, color education, paint prep education for the homeowner, etc. Overall, there is a lack of education on what the homeowner can do themselves to protect their home for a longer period of time and ensure their paint job lasts for years. 
All of these gaps by no means are a dig at all painting companies. We know excellent paint companies out there that take a lot of these things very seriously and run awesome businesses that serve their clients at a very high level. 
There's not a ton of them, but they are out there! If for any reason we can't help you with your paint project, we actually recommend a few paint companies in the area that we trust to reach out to. 
With that being said, all of these gaps and the painting knowledge Nick has acquired over the years has helped him put specific processes and guidelines in place, allowing him to better serve the homeowners and clients he works alongside now at Oak City Coatings. 
Our Values As a Paint Company At Oak City Coatings
With his extensive painting knowledge and experience in working with customers on many different painting projects, Nick understands the importance of hard work and leading with your values. 
Oak City Coatings operates with a few key values in mind, including:
Education – we never stop learning to ensure we are following the best painting practices. 

Integrity – upholding the highest level of integrity in all that we do and communicate. 

Customer experience – dedicated to providing the very best customer experience from the moment you reach out. 

Quality – we strive to provide quality communication, processes, products, and results. 

Respect – respect for our customers, properties, and community. 
If you are in the Raleigh area and are looking to partner with a customer-centered paint company that can help you transform your space in a timely, professional manner, we'd love to work with you!
Book your free estimate with Nick and the team today!